Virtually musical!
Virtually musical!
21 November 2018 (by admin)
We visited the 'Virtual Orchestra' exhibition in Leicester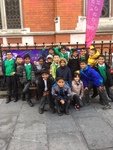 Our School Orchestra made a trip into town to visit the 'Virtual Orchestra' exhibition. They went on public transport (paid for by school) from school to Granby Street to visit this exciting exhibition. Organised by the Philharmonia Orchestra it showed the children how an orchestra is organised and the children could listen and learn about all the instruments as they went round. Some children were even lucky enough to put on a VR headset which took them straight in amongst the orchestra members! It was very exciting and the children enjoyed this experience. Thanks to Mrs Cobbold and Mrs Robinson (who leads our school orchestra) for accompanying them.