Sports Premium
The government provides additional funding to improve provision of physical education (PE) and sport in primary schools. This funding is ring-fenced and can only be spent on the provision of PE and sport in schools. Schools must use the funding to make additional and sustainable improvements to the quality of PE and sport they offer. The Primary PE and Sport Premium is used to:
develop or add to the PE and sport activities that the school already offers
build capacity and capability within the school to ensure that improvements made now will benefit pupils joining the school in future years
Schools are required to publish details of how they spend this funding as well as on the impact it has on pupils' PE and Sport participation and attainment.
For 19/20, we were allocated £19890 but had a total of £22,792.68 due to a carry forward of £2902.68
In 2019/2020 we spent the money as follows:
£15122.50 (66.3%) on Staff Development, either through working alongside coaches or attendance of professional courses.
£3725 (16.3%) on a scheme of work called real PE. real PE is, first and foremost, a philosophy and approach which aims to transform how we teach PE in order to include, challenge and support EVERY child. It supports teachers and other deliverers to make small changes that will have a significant impact on their learners.
£2785 (12.3%) on our annual subscription to the Leicestershire Sports Partnership, Oadby partnership affiliation fee and an SEN competition fee. This enables the children to take part in lots of competitions and events. This also includes a fee which goes towards medals and trophies.
£52.28 (0.3%) on equipment for our playground leaders to ensure that children are given the opportunity to be more active during playtime.
£120 (0.5%) on transport to get the children to competitions and events.
We have £987.90 (4.3%) of our budget left.
We also had support from external coaches to help engage those children that had low participation levels or activity levels. In addition to this, we ran Energize and Sparx Clubs to target these children as well as a club targeted at low participating girls.
The government have announced that PE funding will continue for 2020-21.
______________________________________________________________________________________________________________________
We are also hoping to use some of our sports premium money to provide booster sessions for children that have not met the national curriculum requirements of swimming 25 metres.
Below is a table to show how many of our current Year 6 cohort are meeting the requirements for swimming.
| | |
| --- | --- |
| Meeting national curriculum requirements for swimming and water safety | Please complete all of the below*: |
| What percentage of your current Year 6 cohort swim competently, confidently and proficiently over a distance of at least 25 metres? | 90% |
| What percentage of your current Year 6 cohort use a range of strokes effectively [for example, front crawl, backstroke and breaststroke]? | 90% |
| What percentage of your current Year 6 cohort perform safe self-rescue in different water-based situations? | 90% |
| Schools can choose to use the Primary PE and Sport Premium to provide additional provision for swimming but this must be for activity over and above the national curriculum requirements. Have you used it in this way? | No, but this is something that we intend to do in the future; this is the second year we have had Year 6 children so we are working towards ensuring all children can swim by having swimming lessons in Year 4 too. This will supplement those that were already occurring in Year 2 prior to the Year 6 children staying at the school. |
P.E. Funding
Participation
At Woodland Grange we run a large number of clubs in a variety of different sports. Participation rates are always very high and children are encouraged to get involved.
We are also very keen to take advantage of the many sporting competitions organised across Leicestershire, including:
Basketball
Tag Rugby
Athletics
Tennis
Football (mixed and girls only)
Cross Country
Cyclocross
Gymnastics
Netball
Dodgeball
All of our children relish the opportunity to represent us in competitions and there is always a wonderful, positive team spirit.
We also entered some of our pupils with additional needs into inclusive sporting competitions as well as supporting pupils who have low participation or activity levels. We are using coaches to assess and work alongside these children.
For a full report on participation and funding in PE please click to download our reports on the impact of PE funding in school below:
Positive Playgrounds
We currently have a School Sports Organising Committee (SSOC) that runs activities at lunch times several times a week including intra-school competitions.
The SSOC have also undertaken Level 1 Playmaker training as organised by our local School Sports Partnership (SSP).
They also lend out equipment each lunchtime to enable our children to be as active as possible.
Real Legacy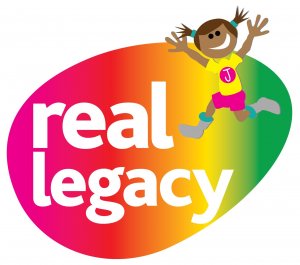 Woodland Grange Primary School is proud to be a real legacy school and is striving to create a new ambition for EVERY child.
Not only are we on a mission to get our children more active by developing the fundamental movement skills that are so often overlooked, our PE lessons are centred around the child to enable them to be successful in the classroom and in later life.
Real legacy allows us to bring the school, home and the community together to enable cultural change. Our journey commenced with real PE teacher training to support our PE provision to develop the whole child and extends across the school to include supporting families and the wider school community. The school is supported with teacher training, school based support, fun real play activities for families, enrichment and competitive opportunities and supporting resources from Create Development all through a holistic approach to also develop children's personal, social and emotional skills.